It's that time of the year again! Time for my annual best of list or "highlights" as I prefer to call them. This year I have decided to do just one list rather than two separate ones for metal and non-metal. The main reason for this is that there have not been too many industrial/EBM releases that caught my attention this year. So without further ado, here are my top ten albums of 2018:
1. Powerwolf – The Sacrament of Sin
Genre: Power Metal

The German power metal wolves are back with a new album. And what an album it is!! I honestly cannot get enough of it. It may not be very profound as far as the themes go but it is hell of a lot of fun. Stand-out tracks are 'Fire & Forgive', 'Demons Are A Girl's Best Friend' and 'Nightside of Siberia'.
2. Lord of The Lost – Thornstar
Genre: Dark Rock/Gothic Industrial Metal


I absolutely adore this band. They combine the best of dark rock with Gothic metal and Deathstars-like industrial metal. 'Thornstar' has to be their greatest and most complex album to date. In order to fully understand the concept, I would recommend that you download the 21 paged 'Thornstar backstory' from the band's website. It's a fascinating read that offers some insight into Pangaean history and culture. Alternatively you can simply enjoy music. Stand-out tracks are 'On This Rock I Will Build My Church', 'Haythor' and 'Black Halo'.
3. Behemoth – I Loved You At Your Darkest
Genre: Blackened Death Metal


Behemoth are back with their long-awaited new album. As I mentioned in my review, this is not 'The Satanist part 2' but rather a mixture of both old and new Behemoth styles. It takes a few listens but once you get into it your patience will be rewarded. Stand-out tracks are 'Wolves ov Siberia' and 'Bartzabel'.
4. Chthonic – Battlefields of Asura
Genre: Melodic Black Metal/Oriental Metal


My favourite oriental metal band are back. Their latest album might not be a memorable as 'Bú Tik' but it has its moments. Music-wise it offers more of Chthonic's unique blend of melodic black metal, death metal and oriental folk music with the addition of some choirs and guest vocals from the Cantopop singer Denise Ho. Stand-out tracks are 'A Crimson Sky's Command' and 'Millennia's Faith Undone'.
5. MONO Inc. – Welcome to Hell
Genre: Gothic Rock/Dark Rock


More Gothic rock…' Welcome to Hell' is my favourite MONO Inc. album to date. Their music is essentially melodic hard rock but it also has this wonderful, eerie Gothic feel. Stand-out tracks are 'Long Live Death', A Vagabond's Life' and Reign of Rats'.
6. Grimner – Vanadrottning
Genre: Folk Metal/Viking Metal

I had the pleasure of reviewing this album earlier this year. It's been a long while since I've heard any folk metal that was this good. I would recommend this to fans of Finntroll, Ensiferum and Månegarm. Stand-out tracks are 'Vanadrottning' and 'En Fallen Jätte'.
7. Monstrosity – The Passage Of Existence
Genre – Death Metal


My kind of death metal and my favourite death metal album of 2018. It is hard to pick out a stand-out track since in all honestly I like them all but 'Kingdom of Fire' and 'Maelstrom' are the ones that stuck in my head the most.
8. Hanzel und Gretyl – Satanik Germanik
Genre: Industrial Metal/Groove Metal/Extreme Metal


'Satanik Germanik' is Hanzel und Gretyl's heaviest and most metal album. As mentioned in my review it is darker and more serious than the material from the "Fukken Über' era, much like its predecessor 'Black Forest Metal'. Luckily that does not make it any less fun. Stand-out tracks are 'I Am Bad Luck' and the party song 'Trinken Mit Der Kaizer (Die Bierz From Hell)'
9. Scandroid – The Darkness
Genre: Synthwave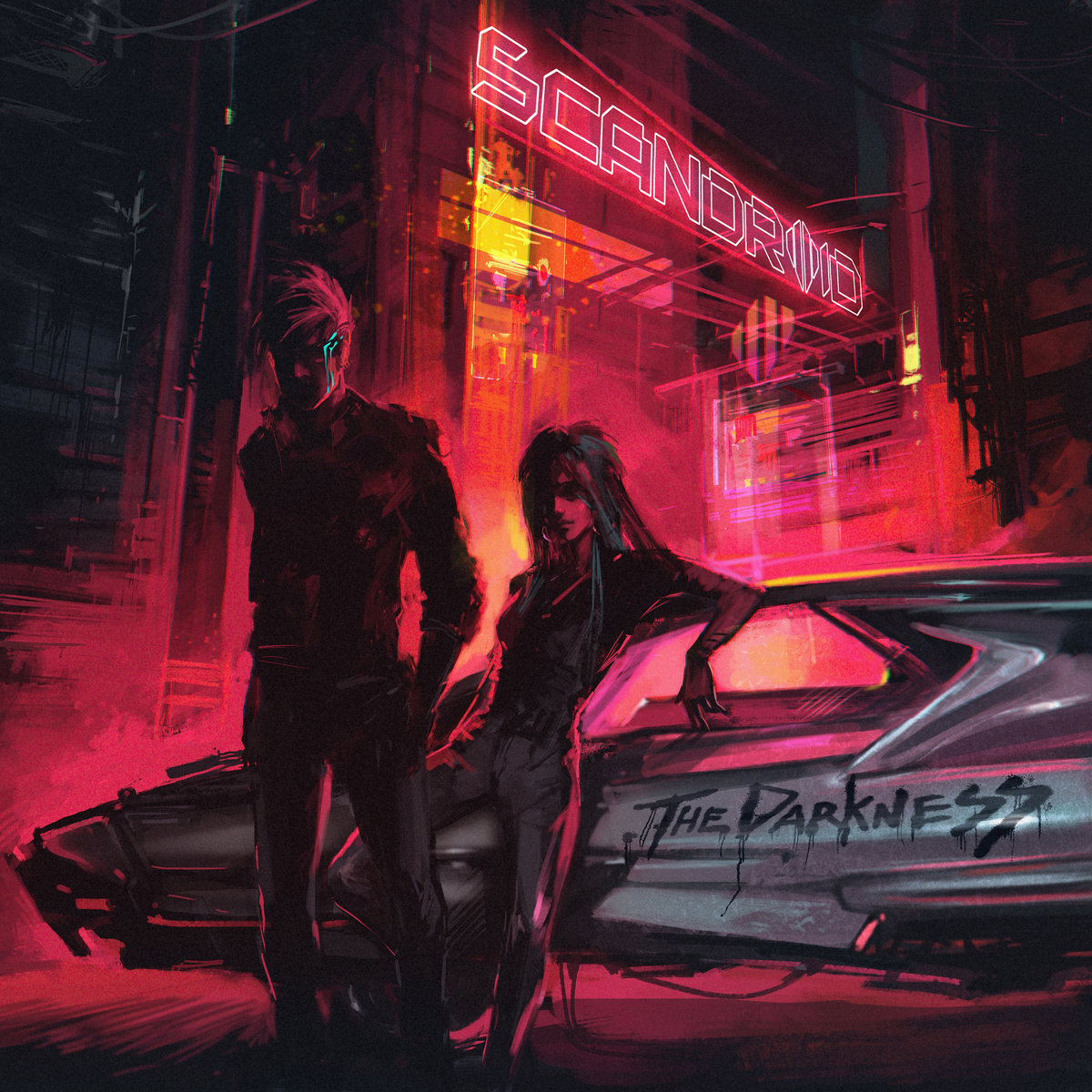 One of the few electronic releases that made it to my top 10. 'The Darkness' is the third album from Klayton (Celldweller/Circle of Dust)'s synthwave project Scandroid. Delightful retro synthesizer tunes, a little guitar and melodic vocals all with a futuristic feel. Stand-out tracks 'Phoenix' and 'Red Planet'.
10. Auger – The Awakening
Genre: Darkwave


A new discovery for me. I really enjoyed Auger's show at Lumous Gothic Festival 2018. This British dark wave duo combine the best of darkwave and Gothic rock. I would recommend their debut album to fans of Blutengel, Gothminister and The Vision Bleak. Stand-out tracks are 'Monster' and 'My Guardian'.
Honourable mentions:
Xentrifuge – Desensitized Parallels, Immortal – Northern Chaos Gods, Psyclon Nine – Icon of The Adversary. All good albums but with only a few outstanding tracks they missed out on a space in my top ten list.
IAMX's latest album 'Alive in The New Light' also came out of the start of this year. While it didn't make my top ten I did enjoy it, especially the track 'Mile Deep Hollow'.
Check out the video here:

Best live show of 2018: Helloween live at South Park Festival in Tampere.
Biggest New Discovery: Auger
Most anticipated albums in 2019:
Blutengel – Un:Gott
Blue Stahli – Obsidian
Also hopefully new albums by Helloween and Rammstein.
Happy New Year Everyone!
Iza Raittila