It's been three years after their last studio effort 'Two Paths'. Now the Finnish folk metallers are back with a new album called 'Thalassic'. Here is an official statement from the band regarding the lyrical themes:
"The idea of it started to brew in my mind when I was doing interviews for 'Two Paths' and many journalists asked if it was a theme album, and I noticed that I was answering all the time that because of the way we compose it's almost impossible to make a theme album. This really started to piss me off and the decision was made: the next album would have a theme. At that time, we already had a few songs almost ready for the next album, and I started to listen to the demos much more from the feeling aspect instead of analyzing them musically. For some reason, all of them took me to a seashore, and the theme was found: something related to sea or water. So I started to read about history, myths and legend around the world that had something to do with the theme, but even though all of the lyrics are obviously inspired by this, I tried my best to keep Ensiferum's heroic mentality in them. In the end, there were too many ideas for lyrics, because I didn't set myself any boundaries – like all stories would have to be Nordic, etc, and one of my favourite songs on the album tells about Andromeda from Greek mythology. I can't promise that this way of lyric-writing will be the future of Ensiferum, but at least we did this once."
You see the cover art and track-listing below: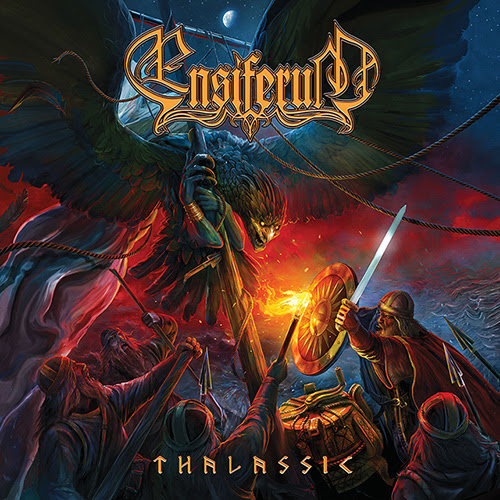 1. Seafarer's Dream
2. Rum, Women, Victory
3. Andromeda
4. The Defence of the Sampo
5. Run from the Crushing Tide
6. For Sirens
7. One with the Sea
8. Midsummer Magic
9. Cold Northland (Väinämöinen Part III)
10. Merille Lahteva (Bonus Track)
11. I'll Stay by Your Side (Bonus Track)
'Thalassic' will hit the shops in both physical and digital formats on 10th July 2020 via Metal Blade Records.
In the meantime you can check out their new lyric video for 'Rum, Women, Victory'
For further information visit:
https://www.facebook.com/Ensiferum