Artillery join Onslaught on their European tour this autumn
Get ready for the thrash metal assault in Europe this autumn…
The Danish thrashers Artillery have recently announced that will be co-headlining 'Thrash Til Death' European tour along with Onslaught starting in Oberhausen, Germany next month. They will be joined by their Greek brethren Exarsis and Chronosphere.
This year also marks the 30th anniversary of their 'Terror Squad' album so their fans can expect to hear some of the classics from the band's early days along with new material from their last opus 'Penalty By Perception'.
For the full schedule see the list and the poster below:
23/09 – Helvete Club – Oberhausen (DE)
24/09 – Hedon Club – Zwolle (NL)
25/09 – De Verlichte Geest – Roeselare (BE)
26/09 – Roxy Concerts – Flensburg (DE)
27/09 – Garage Deluxe – München (DE)
28/09 – Moonlight Music Hall – Diest (BE)
29/09 – Fuizenfest – Riel (NL) (ONSLAUGHT)
30/09 – Kiehool Burgum – Burgum (NL)
01/10 – OFF DAY
02/10 – Schwarzer Adler – Tannheim-Egelsee (DE)
03/10 – Escape Metalcorner – Vienna (AT)
04/10 – 7er-Club – Mannheim (DE)
05/10 – Musigburg – Aarburg (CH)
06/10 – Dada Live Club – Pavia (IT)
07/10 – Revolver Music Hall – Venice (IT)
08/10 – Borderline – Pisa (IT)
09/10 – Sala Utopia – Zaragoza (SP)
10/10 – OFF DAY
11/10 – SMAC de La Gespe – Tarbes (FR)
12/10 – Sala Upload – Barcelona (SP)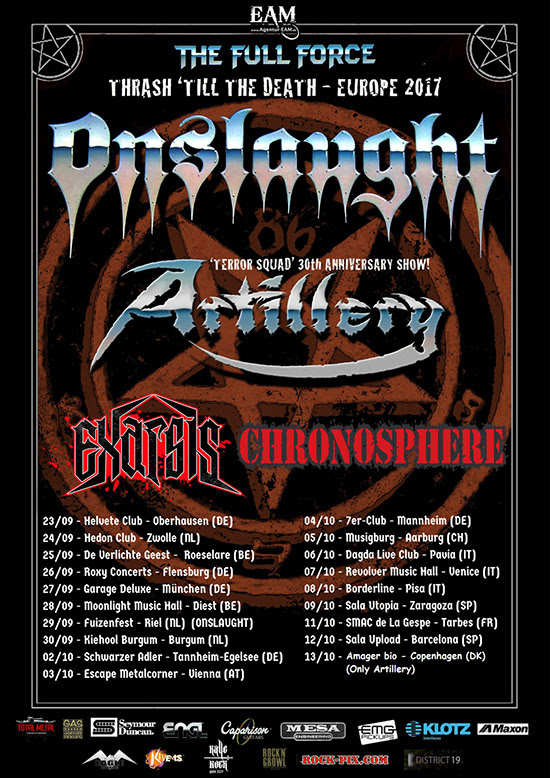 Artillery are currently in the studio putting the finishing touches on their new album 'The Face of Fear' which will be out later this year.
For more details on the tour and more updates go to:
https://www.facebook.com/ARTILLERY.DK
https://www.powerfromhell.com/
https://www.facebook.com/onslaughtuk
This entry was posted on 31st August 2018 at 8:21 pm and is filed under Misc., News with tags Artillery, European tour, Onslaught, Thrash metal. You can follow any responses to this entry through the RSS 2.0 feed. You can leave a response, or trackback from your own site.
This site uses Akismet to reduce spam. Learn how your comment data is processed.