Meet The Staff
Nico Davidson (Real name: Nick Taylor)
Editor/Promoter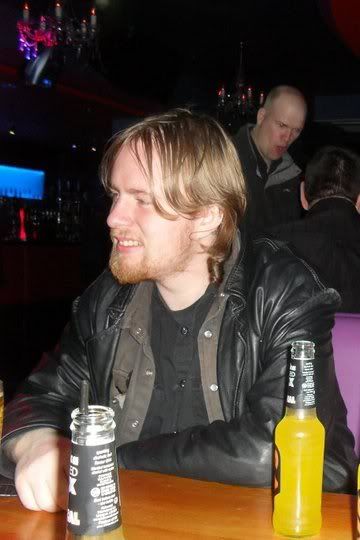 Bio:

Hi, I'm Nick but I'm more commonly known by my pen name "Nico Davidson". I'm 22 years of age and the editor for this site.
Top Five Albums:
Iron Maiden – Number Of The Beast
Epica – Th Divine Conspiracy
Ravenage – Hardrada's Fall EP
Megadeth – United Abominations
Amon Amarth – Twilight Of The Thunder God
Iza Raittila
Co-Editor


Bio:
Hi there,
I'm Iza, a multilingual marketing graduate originally from Warsaw,
Poland. I grew up in Manchester then studied in Southampton where I
met my husband Pekka. I got into metal when I was about 14 and I've
been a fan of it ever since. I love going to gigs and festivals. If
that means travelling to other cities and countries, even better. I'm
also a judo brown belt and a huge fan of ice hockey.
Top Five Albums:
Metallica- Master of Puppets
Children of Bodom- Follow the Reaper
Rammstein- Mutter
Cradle of Filth- Cruelty and the Beast
Vader- Black to the Blind
Hannah O'flanagan (Hammi)
Writer/Interviewer



Bio:
Hammi is a born and bred fan of music, music in all its' forms and functions. She's studying for a Masters in Viking and Anglo-Saxon Studies at Nottingham, and hopes to one day use her studies to become a professional Viking, or Beowulf impersonator. Usually, you can find her dancing like a lunatic to anything- be it jiggable folk metal or chugging gothy industrial stuff, or even a bit of chart cheese. She's not fussy, really. On a quieter day, she's probably poring over some ancient Norse or Old English text, reading Harry Potter or wasting money on World of Warcraft or Magic: The Gathering. Or on real ale and cider.
Top Five Albums:
Amon Amarth- Twilight of the Thunder God
Florence + The Machine- Lungs
Ensiferum- Victory Songs
Turisas- Battle Metal
Finntroll- Ur Jordens Djup
Demolithia
Writer/Photographer
 

Bio:

Demolithia resides in the dark chambers below.Her main task is to moderate Ultimate Hell aswell taking care of the photo business UltimateHell Metal & Rockphotos, which currently appears on Facebook: http://www.facebook.com/UltimateHellmetalrockphoto
When she´s not all too busy shooting to kill, she point direction in SwedenMetal http://www.swedenmetal.se .
Check out Demolithias nocturnal doctrines: http://demolithia.wordpress.com
Top 5 Albums:
Vomitory – Terrorize, Brutalize, Sodomize
Setherial – Ekpyrosis
Demonical – Servants Of The Unlight
Sorghegard – Holocaust Of The Holy
Blackwinds – Flesh Inferno
Renata Leno
Writer/Photographer

Bio:
Hello, people! My name is Renata but many people call me Pieni, or simply Pi. I've been listening to hard'n'heavy – all kinds of it – since I was 13, which means it's a loooooooong time. Born and living in Portugal, but I travel quite a lot to attend concerts, which I photograph and write about – here, Front Row Forever and Backstage Music Forum.
Top Five Albums:
W.A.S.P. – The Crimson Idol
Sonic Syndicate – We Rule The Night
Children Of Bodom – Hate Crew Deathrole
Paradise Lost – One Second
Hardcore Superstar – Hardcore Superstar
Related articles